Posts Tagged 'book blogging'
As you can see from my recent posts, my brain hasn't been in a review-writing mood lately.  This short list of "secret life" questions has been doing the rounds –  I've seen it at Don Jimmy Reviews,  Tattooed Book Geek, Always Trust in Books, on twitter, etc.  It looked like fun, and I like fun and shyly talking about myself, right?
be warned – these answers are boring and practical.   I tell it how it is.
How Long have you been blogging?
Little Red Reviewer has been going since 2010,  so nine years here.  total blogging online and posting book reviews on various sites? probably closer to 13 years.
At what point do you think you will stop blogging?
to be honest, I think I am getting close to that point.   When I started this blog, I was working part-time, my commute to work was 5 minutes, I didn't have a lot of hobbies, and I just didn't have a lot of stuff going on in my life.  I needed a hobby, and something to pour my creative energy into, you know?  Nine years later, I have a very fulfilling full time job with an hour commute each way,  not that much time to read, and other less time-consuming projects to pour my creative energy into.  Blogging was the perfect creative outlet for me at the time.  I think i'm getting to the point in my life where it is one of many creative outlets.
What is the best thing about blogging?
the community!  thanks to blogging, I have friends EVERYWHERE!  I've done read alongs,  buddy reads, themed months,  organized  blog tours.   Those things were possible because of our amazing and supportive community!

What is the worst thing? What do you do to make it OK?
the pressure to put out content on a regular basis.
the FOMO when every else gets an ARC that you didn't get.
the guilt that you didn't read for 20 hours this weekend.  the guilt that you are reading a book that YOU want to read, instead of the book that is hyped or the book that you got talked into doing for a blog tour.
the pressure to simply kick out content as fast as you can and have more hits and more comments and more social media followers than someone else.
What do I do to make it ok? As a way to lower my anxiety, I have mostly disengaged from the blogging community, which is a shitty thing to do, I guess, but whatever.    That seems to be my defense mechanism for everything lately – disengage.  People should do whatever makes them happy, and I don't want to be a  buzzkill, so I just wander off and do whatever makes me happy. I'm a exhausted introvert – a lot of time the thing that makes me happy is sitting in a quiet room, enjoying the quiet.
As you all know by now, my Kickstarter for The Best of Little Red Reviewer did not fund.  Of the $5000 I was asking for, I was at less than $2000 when the campaign ended.
Those first 24 hours of the kickstarter were amazing! I was a "project we love" on Kickstarter.  Amazing people (you know who you are!) put in $50 or $100 right out of the gate to give me a good start. At work that day, I refreshed my phone incessantly, and didn't know if I was going to happy cry or puke.  The last time I was this excited/happy/nervous for something was the day I got married.
My kickstarter didn't fund, but I had an amazing experience, and more importantly  I have the best, kindest, most supportive friends in the world. All day on February 1st, my phone was blowing up with text messages, e-mails, twitter DMs, and phone calls from my friends saying how sorry they were that the KS didn't fund.  Those messages? That support? People saying how much they cared about me and my project, and saying they hope I try it again? Those messages are worth more than $5000 could ever be worth.
My KS did not fund,  and I am not devastated.  The KS failed, but I did not.
Let me say that again:  I do not equate a kickstarter failure with a personal failure.  There were a lot of things I feel I did right, a lot of things I missed, and about a million things that I learned. I accomplished more than I expected. I have always viewed blogging as a journey, not a destination. The kickstarter was the most interesting, most intense, most emotional rollercoaster place I've ever been! Just doing it was an accomplishment I'm proud of.
Did I want it to fund? Yes.  Was I a little intimidated of what funding would mean, in reality? Absolutely.    Am I a little relieved that the stress is ending now, instead of months from now? Yeah, actually.
Do I still think this is a good idea? Oh hell yes.  Do I have a ton of work to do before I'm ready to go at it again? Oh hell yes.  I'm happy I did the kickstarter, I had an incredible experience. This was quite literally an experience of "what have I got to lose by trying this?" and the answer was nothing, so why not give it a try?
I have  a very long list of things I'm proud of accomplishing, and a rather shorter list of things that I will do differently next time, and a list of things I need to accomplish (some very easy, some more complicated) before I'm ready to go at this again. I won't bore you with the lists, because they are very long. and boring.
One thing I will share with you about what I won't do next time:  I won't run a Kickstarter in January, during a polar vortex. Having a social media presence was made even harder when my daily commute was doubled from crappy driving conditions. What the hell possessed me to do this in freakin' January??
Alright my friends, I have a lot of e-mails and message to return.  I love you all, the public support you've given me these last few months means more to me than you can ever know.  I had described this kickstarter as a viability test: are book reviews viable outside the internet? Are pixels on a screen worth becoming ink on a page? And the answer I got was "not yet".   Which means one day, the answer will be yes.
Until then, it's back to book blogging!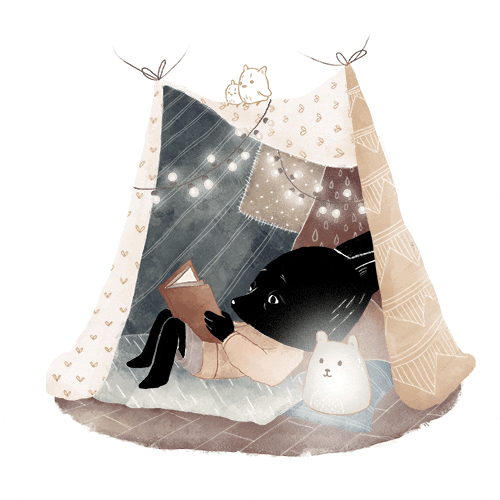 Instead of a review, I have a thought experiment for you.  Like glitter slime, this was a fun idea to play with, and one I didn't want to let go of until I'd tortured some people with it.  I have no idea if this is a funny idea, a dumb idea, or a cruel idea. For all I know, it has already been attempted.
A forthcoming book is getting a ton of hype. It is the author's debut novel, the author's website doesn't have a ton of information because this person hasn't written very much. A short and vague bio, a photo of the author, maybe a picture of their dog taken at the beach, or their cat sleeping in a sun spot. Lots of excitement about their debut novel!
Publicity e-mails start going out, showcasing stunning cover art, intriguing back cover copy, promises of a book that will blow your mind with unexpected twists and turns. The publicity e-mail requests that if you are lucky enough to receive an ARC, that you do not talk about the book until the release day, and that under no circumstances do you spoil any of the plot twists.
Book reviewers patiently wait for ARCs to arrive. The publisher has chosen not put the book on Netgalley, citing lack of control of when reviews are published as their reasoning. High profile book reviewers assume they will be the first to receive the ARCs.
There is more and more hype on social media. A book trailer that looks like the best scifi movie preview you've ever seen. Posts that are guessing about the plot, discussing images and pictures that are in the cover art – what could these possibly have to do with the characters and the plot that is mentioned on the back cover copy?
The release date gets closer.
Bloggers and reviewers begin to grumble on twitter that they haven't rec'd an ARC yet. Hundreds of people mark the book as "want to read" on Goodreads. The book is available for pre-order on Amazon. NPR even mentions the elusiveness of the author, whose debut novel is has the book reviewing community all a flutter due to so few ARCs being available.