Archive for the 'Tobias Buckell' Category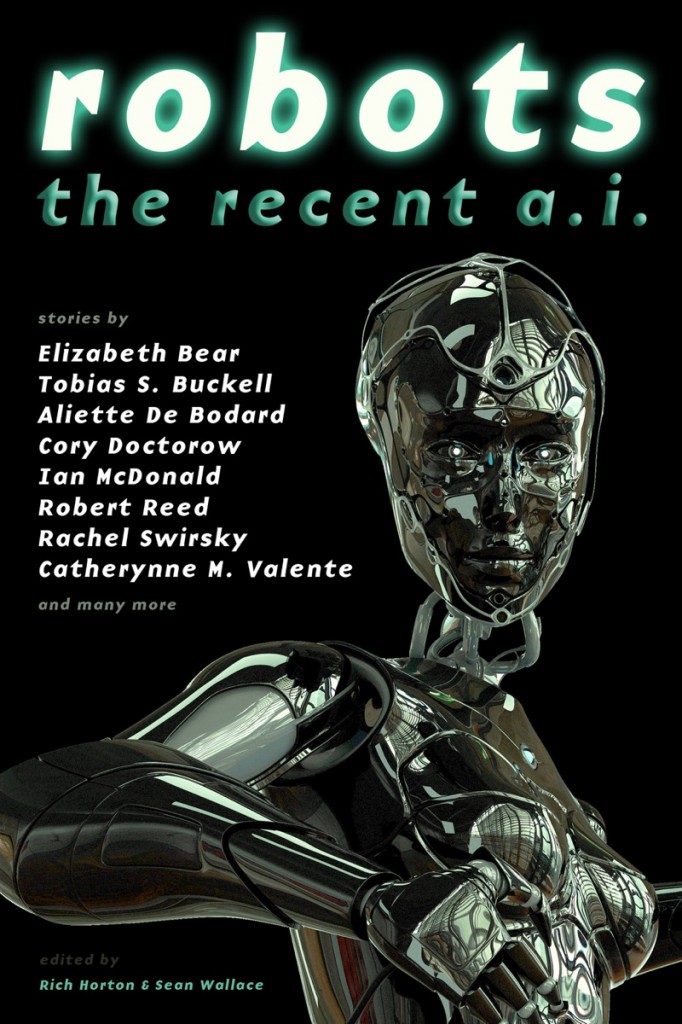 Robots: The Recent A.I., edited by Rich Horton and Sean Wallace
published in 2012 from Prime Books
where I got it: purchased
.
.
.
.
.
.
.
For no good reason, I've never read much short fiction. I've had mixed luck with anthologies in the past, and that is a terrible reason to shy away from short fiction. Good thing I ran into Robots: The Recent A.I., an anthology so packed with my favorite authors that I felt like a kid in a candy store. Authors such as Cory Doctorow, Cat Valente, Lavie Tidhar, Tim Pratt, Rachel Swirsky and more whipping up near and far future tales of an aspect of science fiction that is near and dear to my heart: artificial intelligence. How could I possibly say no? Most of these stores have already appeared elsewhere, but I had only ever heard of the Valente and Doctorow titles. Blazing big and bold on the cover is the word "robots", but artificial intelligence is so much more that a metal machine that can have a conversation with you or play chess.
These are the stores about the new holy grail: creating an artificial intelligence that is so close to human we can't tell the difference. When an AI is so close to human you can't tell, where is the line between ownership and freedom? Where is the line between loving someone and being programmed to love that person? For a discussion about cold hard programming, where every decision comes down to a sharply defined one or zero, these are some mighty emotional and sensual stories. Some are told from a humans point of view, others are from the point of view of an AI. These are not your Papa Asimov's robot stories, and it's suddenly about more than playing chess.
It's one thing to program a machine to believe that it is a human. It's an entirely different thing to deal with the consequences. Frankenstein's monster indeed.
Arctic Risi
ng, by Tobias Buckell
Published in 2012
Where I got it: borrowed
.
.
.
.
.
.
.
.
Anika Duncan was just doing her job. As an airship pilot for the United Nations Polar Guard, her job is to watch the waters. For drugs, human trafficking, and radioactive material. In the not too far future, the ice has started to melt, the Northwest Passage has opened, and floating bergs and barges all the up on the pole act as a loosely conglomerated not-country called Thule.
On a routine mission Anika's instruments pick up something they shouldn't. And then her airship is fired on, killing her co-pilot. At first, the government goes all out to find her attackers and find out what they were smuggling, but before long the terrorists disappear and she's told there was absolutely nothing on their ship. But she knows what she saw on her instruments. On the run and with few friends to help her, Anika heads north in hopes of learning what was on the ship and who her true friends are.
Once the action starts in this eco-thriller, it never stops. Imagine a Bond movie where Bond and the beautiful ass-kicking Bond girl got melded into one character, and you'd have Anika Duncan. As a pilot with the UNPG, she can fly any airship and shoot any gun. She never backs down, and has no idea what she's gotten herself into. From the islands of Northern Canada and all points north, whoever thought so much could happen in the Arctic Circle?