Archive for the 'Rachel Swirsky' Category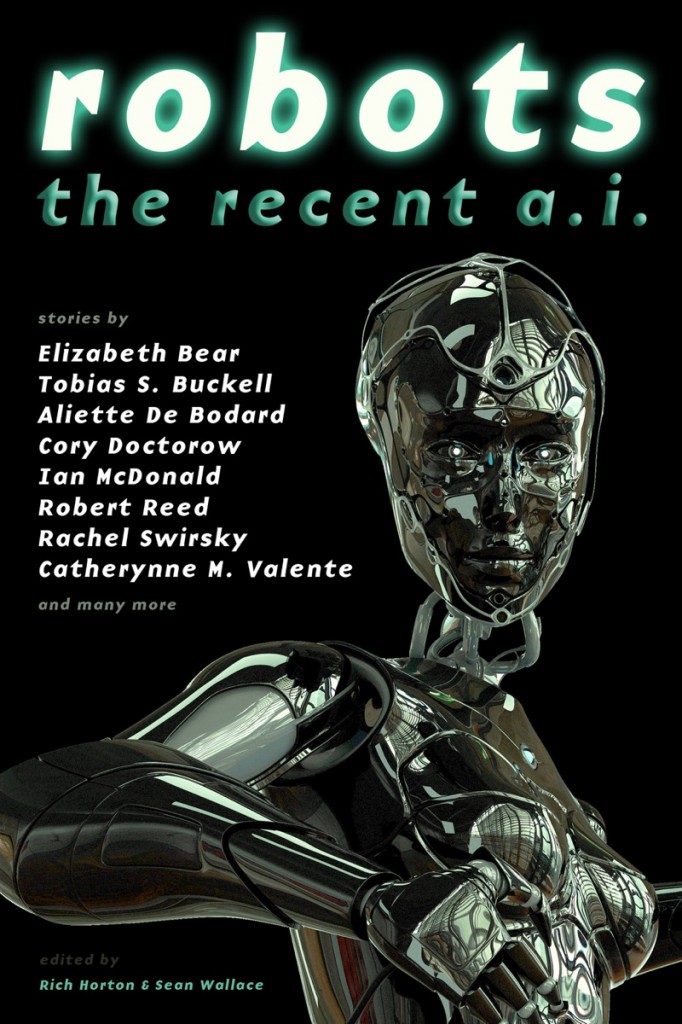 Robots: The Recent A.I., edited by Rich Horton and Sean Wallace
published in 2012 from Prime Books
where I got it: purchased
.
.
.
.
.
.
.
For no good reason, I've never read much short fiction. I've had mixed luck with anthologies in the past, and that is a terrible reason to shy away from short fiction. Good thing I ran into Robots: The Recent A.I., an anthology so packed with my favorite authors that I felt like a kid in a candy store. Authors such as Cory Doctorow, Cat Valente, Lavie Tidhar, Tim Pratt, Rachel Swirsky and more whipping up near and far future tales of an aspect of science fiction that is near and dear to my heart: artificial intelligence. How could I possibly say no? Most of these stores have already appeared elsewhere, but I had only ever heard of the Valente and Doctorow titles. Blazing big and bold on the cover is the word "robots", but artificial intelligence is so much more that a metal machine that can have a conversation with you or play chess.
These are the stores about the new holy grail: creating an artificial intelligence that is so close to human we can't tell the difference. When an AI is so close to human you can't tell, where is the line between ownership and freedom? Where is the line between loving someone and being programmed to love that person? For a discussion about cold hard programming, where every decision comes down to a sharply defined one or zero, these are some mighty emotional and sensual stories. Some are told from a humans point of view, others are from the point of view of an AI. These are not your Papa Asimov's robot stories, and it's suddenly about more than playing chess.
It's one thing to program a machine to believe that it is a human. It's an entirely different thing to deal with the consequences. Frankenstein's monster indeed.
The Thackery T. Lambshead Cabinet of Curiosities, edited by Ann & Jeff VanderMeer
Published July 2011
Where I got it: rec'd  a review copy from Harper Voyager
Why I read it: have been following this doctor for a while, and I want to get my hands on anything Jeff VanderMeer is involved in
.
.
.
.
.
.
In homage of the Neatorama game that would have an utter nerdgasm if faced with Dr Lambshead's Cabinet of Curiosities, I offer you the ultimate meta'd "What is it?" game: The Thackery T Lambshead Cabinet of Curiosities itself.
Well, what is it? Exhibition? Self guided museum tour? Self referential satire? A massive inside joke? Eulogy? An unearthing of the madness of a harmless eccentric? I think a line from the movie Catch Me if You Can, (which coincidentally came out the year before Lambshead's death) sums it up nicely: "people only know what you tell 'em".
Dr Thackery T Lambshead was born in 1900. Trained as a physician and scientist, but a true renaissance man, Dr. Lambshead travelled the world, collecting things here and there, making sure other things got back to their home countries, filling countless diaries with descriptions along the way. Briefly married in the 1950's, the doctor may have never fully recovered from his wife's tragic death in a car accident. Filling his home with collectibles and oddities, and occasionally culling the collection by permanently lending items out to museums, he became more and more eccentric. After his death in 2003, appraisers made their way through his home, discovering wonder after bizarre wonder, and trying to connect the objects to descriptions and references found in Thackery's diaries. And then they happened on the secret underground bunker, a cabinet of curiosities that made the upstairs collection look like nothing more than a museum gift shop.
The Thackery T Lambshead Cabinet of Curiosities then, is a collection of remembrances of the doctor himself, descriptions (and some outright guesses) of the strange items found in his home, and most importantly it is an attempt to discover what would cause a man to fill his home with such strange and disturbing things. With entries by Ted Chiang, Rachel Swirsky, Charles Yu, Michael Cisco and Reza Negarestani, Lev Grossman, Naomi Novik among many, many others, along with corresponding artwork and photographs, this is a book that's more than a book. It's a curiosity unto itself, an experience, a portal, a self guided tour through the mind of someone whose collection created him as much as he created his collection.